How Should Frozen Poultry Be Thawed?
Poultry such as chicken, turkey, and goose, and duck are versatile, relatively inexpensive proteins.
Depending on your menu and other factors, your food establishment may prefer to order primarily frozen poultry — whether pre-cooked or raw.
Therefore, it's important that you know how to thaw poultry safely.
This article lists the three ways by which you can thaw poultry safely, and provides other food safety tips for handling and cooking poultry.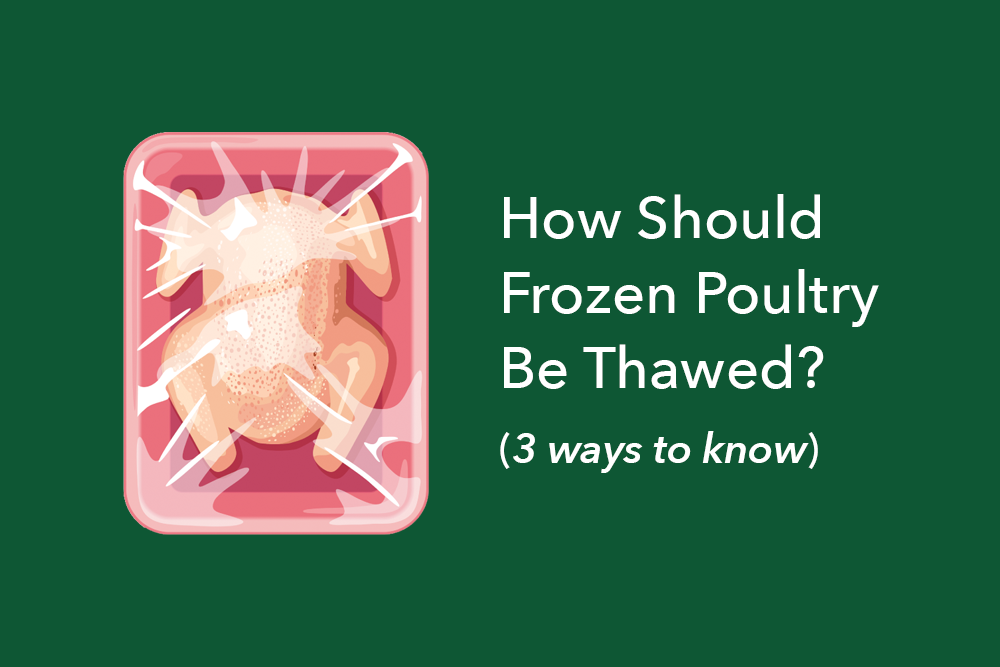 Safe thawing techniques for poultry
Poultry is any domesticated bird used for food.
Examples of poultry include:
chicken
turkey
goose
duck
game birds, such as pheasants
huge birds, such as ostriches and emus
Among these varieties, chicken tends to be the most widely used at food establishments due to its versatility in numerous cuisines and low cost when compared with other types.
Indeed, Americans eat more chicken than other meat.
However, raw chicken is often contaminated with various types of disease-causing organisms — known as pathogens — such as Campylobacter, Salmonella, and Clostridium perfringens bacteria.
Consuming chicken or other varieties of poultry contaminated with these bacteria can make someone seriously sick with a foodborne illness.
Fortunately, cooking poultry to the proper internal temperature kills these harmful bacteria.
However, when improperly thawed, poultry ends up in the temperature danger zone for too long, allowing bacteria to grow and thrive.
Some of these bacteria — especially Clostridium perfringens — can produce spores that help them resist high temperatures that would otherwise destroy them during cooking.
Therefore, you must thaw poultry safely to ensure any bacteria present are destroyed during cooking.
How to safely thaw poultry
There are only three ways by which you can safely thaw poultry — and on the counter isn't one of them.
You can safely thaw poultry (1):
In the refrigerator at 41ºF (5ºC) or below
Under running water that doesn't exceed 70ºF (21ºC)
In a microwave oven before cooking it
These are the only three ways by which you can safely thaw poultry since they limit the time spend in the temperature danger zone.
Each of these methods of advantages and disadvantages.
For example, while it's the safest method, thawing in the fridge takes planning as it can take several days to thaw completely.
Running under warm water takes less time, but it can be a waste of water since the water velocity must be sufficient enough to agitate and float off loose ice particles.
Thawing in the microwave tends to be the quickest but this can sometimes alter the taste, and you must cook it immediately after.
Summary
Raw poultry commonly contains pathogens that can grow heat-resistant spores when thawed incorrectly. To thaw poultry safely, store in the refrigerator, hold under warm, running water, or defrost it in the microwave.
Other food safety practices for poultry
Contamination of poultry with bacteria and other food hazards can occur at any point of its flow, from delivery to service.
Therefore, thawing poultry safely — while important — is just one of the many things you need to do to keep it safe.
Here are food safety practices for poultry at each step of its flow:
Food may not flow through all these steps at your food establishment, but it's important to know how to prevent contamination at each.
Summary
Know how to keep poultry safe throughout its flow by receiving, storing, preparing, cooking, holding, cooling, and reheating it safely.
The bottom line
Poultry — such as chicken, turkey, and game and huge birds — commonly contain bacteria.
Cooking poultry to its minimum internal temperature of 165ºF (74ºC) can only kill bacteria effectively if you thaw it safely.
To thaw chicken safely, you can store it in the refrigerator, run under warm water, or defrost it in the microwave immediately before cooking.
Along with thawing poultry safely using these techniques, don't forget how to keep it safe throughout the rest of its flow to the point of service.
Get Our Food Safety Newsletter
Be among the first to know when we release new courses and articles.