How to Thaw Food Safely for Food Handlers
Thawing foods — it seems like a simple task.
But, if you don't know how to thaw food safely, harmful strains of bacteria like E. Coli and Salmonella — known as pathogens — can grow to unsafe levels and make people sick.
This article explains the three ways you can thaw food safely to keep the customers, patients, or residents you serve safe.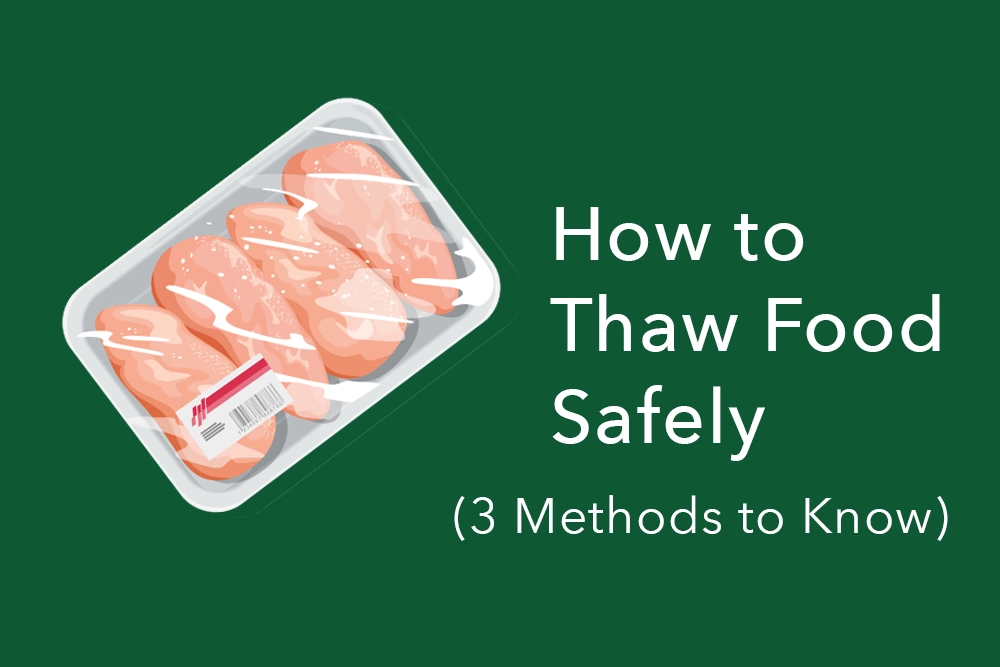 Methods to thaw food safely
It's likely that you or someone that you know has forgotten to move something from the freezer to the fridge to thaw in time before you make it.
Perhaps it was ground beef or ham, but I hope it wasn't a whole turkey the day before Thanksgiving.
What did you or that person do?
Run it under hot water? Leave it on the counter?
I'm sure one or the either, or maybe even both.
The problem with these methods, however, is that while they likely speed up the thawing process, they also allow the temperature of these time and temperature control for safety (TCS) foods to exceed 41ºF (5ºC) and stay there for an unsafe amount of time.
A temperature between 41ºF (5ºC) and 135ºF (57ºC) is known as the temperature danger zone. In this range, bacteria grow rapidly, especially above 70º F (21ºC).
This is why it's unsafe to thaw TCS food like chicken at room temperature.
To limit the growth of bacteria and reduce the risk of foodborne illnesses, you must thaw food safely, and there are three methods to do so (1).
Run under warm water
You can thaw food safely by submerging it completely under warm water in a clean, sanitized sink.
The maximum water temperature allowed using this method is 70ºF (21ºC) since bacteria grow rapidly above this temperature.
Water that is warmer than 70ºF (21ºC) can warm the outside of the food to unsafe levels before the inside has a chance to thaw completely.
In the microwave
A microwave is useful for reheating food, but you can also use one to thaw food.
However, you can only use a microwave to thaw food safely if you plan to cook it immediately after and not place it in the refrigerator to cook later.
Thaw in a microwave at 50% power or, if available, use the defrost setting.
Some foods you can thaw as part of the cooking process. This is known as slacking.
Hamburger patties, for example, can go directly from the freezer to the grill and some types of frozen chicken can go directly into a deep fryer.
In these examples, the food passes through the temperature zone quickly, reducing the risk of pathogen growth.
However, slacked foods must remain frozen until it's cooked.
In the fridge
Thawing food in the fridge is the most common way to thaw food safely — just as long as you remember to transfer the food from the freezer early enough.
The length of time it takes for something to thaw in the fridge after transferring it from the freezer depends largely on its size and water content.
Larger food items with a high water content will take longer to thaw than something smaller and with low water content.
For example, a whole turkey could take around four days to thaw, while a steak or chicken breast may only take 1–2 days.
If you are transferring frozen reduced oxygen-packaged (ROP) fish from the freezer to the fridge, you must first remove the packaging.
If ROP — or vacuum-packed — fish is allowed to thaw while in the package, it has the potential to create deadly toxins from a bacteria called Clostridium botulinum.
Remember to keep all refrigerators at 41ºF (5ºC) or lower.
Summary
You must thaw food safely to prevent it from reaching and maintaining an unsafe temperature. You can do this by using one of three methods — submerge and run under warm water that is 70ºF (21ºC) or less, in a microwave at 50% power, or in a refrigerator.
The bottom line
Thawing food on the counter at room temperature or under hot running water are unsafe ways to thaw food.
You can safely thaw food in one of three ways — submerging and running under warm water that doesn't exceed 70ºF (21ºC), microwaving at 50% power, or, with enough planning, in the refrigerator.
These methods prevent food from reaching or staying in the temperature danger zone for too long.
Get Our Food Safety Newsletter
Be among the first to know when we release new courses and articles.