Reheating Food: Methods, Temperature, and More
Did you know that even if you cook food to the proper internal temperature, there is still a risk that bacteria can grow to harmful levels in food?
Fortunately, reheating food kills most bacteria that may present or reduces them to safe levels.
But, there are certain guidelines that you must follow when reheating food to ensure its effectiveness.
This article explains everything you need to know about reheating food safely so that you can keep the customers, patients, or residents you serve safe.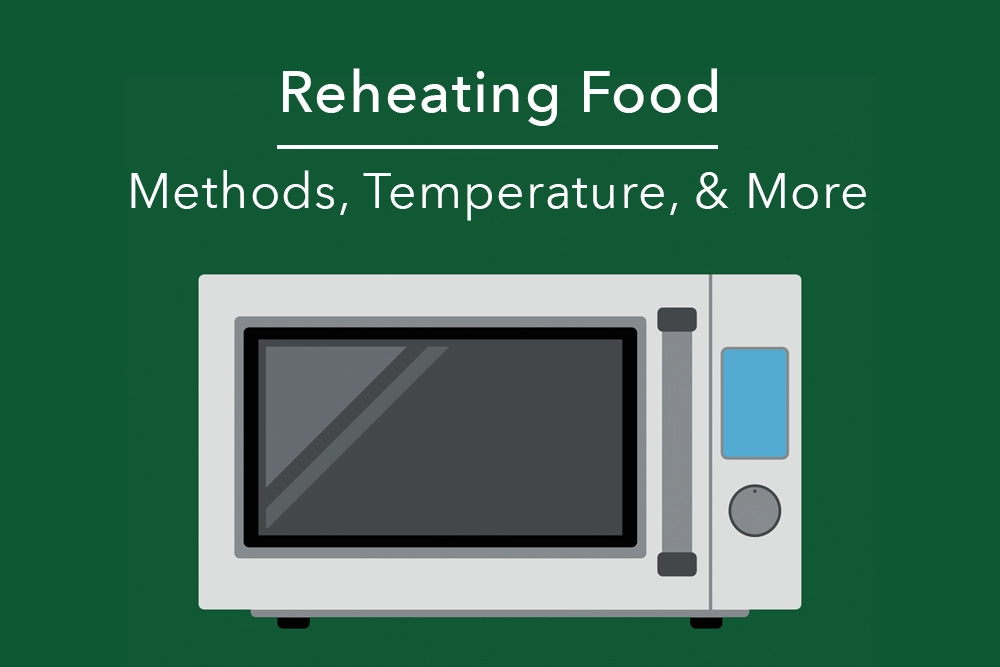 Reheating methods
There are multiple opportunities for harmful strains of bacteria to grow to unsafe numbers and make people sick after it's cooked.
This is why using a two-stage cooling process and properly storing food in cold storage is so important.
For example, harmful bacteria called pathogens like Clostridium perfringens (C. perfringens) can grow in meat, poultry, or gravy that has been improperly cooled.
Fortunately, properly reheating foods destroys C. perfringens and other harmful strains of bacteria that may be present and cause foodborne illnesses.
However, reheating food cannot destroy toxins or spores produced by certain strains of bacteria if the food was held at improper temperatures for too long.
There are two times in which you may need to reheat food — for hot-holding and to recondition food if food falls into the temperature danger zone.
Hot holding
It's a common practice to prepare food in advance and then hold on a hot line in hot-holding equipment.
Before you do this, however, you must reheat food to the proper temperature since hot-holding equipment isn't designed to reheat or cook food but keep it hot.
Reheat time-temperature controlled for safety (TCS) food like poultry, meats, rice, and potatoes to at least 165ºF (74ºC) for 15 seconds (1).
In the case of shelf-stable, commercially prepared ready-to-eat food like soup concentrate, you only need to reheat them to the minimum hot-holding temperature of 135ºF (57ºC) (1).
These products can be reheated to a lower temperature since they have undergone processes that destroy all bacteria and there is little risk of them becoming contaminated.
You must reheat food from its cold holding temperature of 41ºF (5ºC) to 165ºF (74ºC) — or 135ºF (57ºC) if it's shelf-stable and ready-to-eat — within two hours, otherwise, throw it out.
Although two hours is the time limit, you should aim to reheat food to the proper temperature faster so that food spends as little time as possible in the temperature danger zone.
Use a calibrated food thermometer to confirm that food reaches the proper temperature.
Most establishments reheat and hold food for serving or self-service dining, but you can serve any food cold or reheat it to any temperature as long it has been cooked and cooled properly. Pizza is one example.
Reconditioning
Reconditioning is the process of reheating food to 165ºF (74ºC) for 15 seconds to kill bacteria (1).
You may need to recondition food if you cannot cool it to a safe temperature fast enough or if food is being hot-held at an unsafe temperature.
However, recall that reheating cannot make food that was time-temperature abused safe, so certain criteria must be met.
You can recondition food if you were unable to cool it from 135ºF (57ºC) to 70ºF (21ºC) within two hours, or from 135ºF (57ºC) to 41ºF (5ºC) within six hours.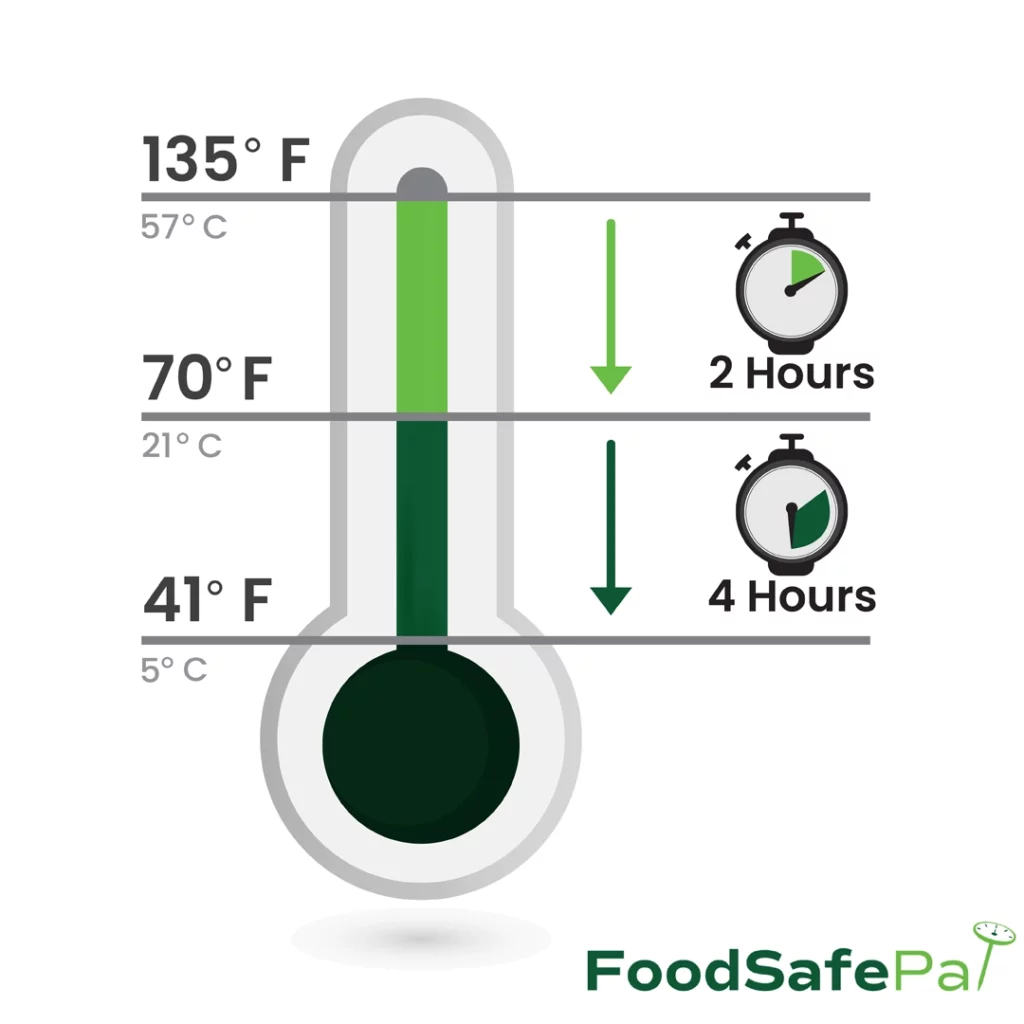 Download this two-stage cooling method poster for FREE!
If you notice that hot-held food is below 135ºF (57ºC), you can only recondition it if it has been less than four hours since you checked the temperature last.
This is because bacteria can grow in food that has remained below 135ºF (57ºC) for four or longer and produce toxins and spores that reheating cannot destroy.
Summary
Reheat food for hot-holding to 165ºF (74ºC) for 15 seconds, unless the food is shelf-stable and commercially prepared, in which you would need to reheat it to the minimum internal hot-holding temperature of 135ºF (57ºC). You can recondition food by reheating it but only if certain criteria are met.
Methods to reheat foods
You can reheat food safely using any type of cooking equipment that can bring food to 165ºF (74ºC) for 15 seconds within two hours.
Some examples of approved equipment for reheating food include an oven, a microwave, a toaster oven, an air fryer, or an instant pot.
Hot holding equipment like a steam table or something like a crock pot or slow cooker wouldn't be appropriate since these devices wouldn't be able to reheat food to a safe temperature quickly enough.
If you plan to use a microwave, cover the food to retain moisture, and rotate and stir midway to allow even cooking.
Allow the food to stand covered for two minutes after cooking to allow the internal temperature to equalize.
You shouldn't reheat food more than once since it not only decreases the quality of the food but also increases the risk that it will become unsafe.
Each time you reheat food it must pass through the temperature danger zone, increasing the risk that bacteria multiply to unsafe numbers and produce toxins or spores that reheating cannot destroy.
Summary
You can use any heating device to reheat food that can bring food to 165ºF (74ºC) for at least 15 seconds and within two hours. Avoid reheating food more than once to ensure optimal quality and safety.
The bottom line
Reheating food kills bacteria and pathogens that may be present.
However, for reheating to be effective, you must have cooked and cooled the food properly.
Reheat food to 165ºF (74ºC) for 15 seconds within two hours using a heating device like a microwave or oven.
Reheat commercially packaged foods that are read-to-eat like soup concentrates to 135ºF (57ºC) — the minimum hot holding temperature.
Get Our Food Safety Newsletter
Be among the first to know when we release new courses and articles.