Biological Food Hazards 101
Food hazards are anything that can contaminate food and injure or make people sick.
Food hazards that cause foodborne illnesses are usually biological.
This article explains everything you need to know about biological food hazards, including what they are and how they occur and spread.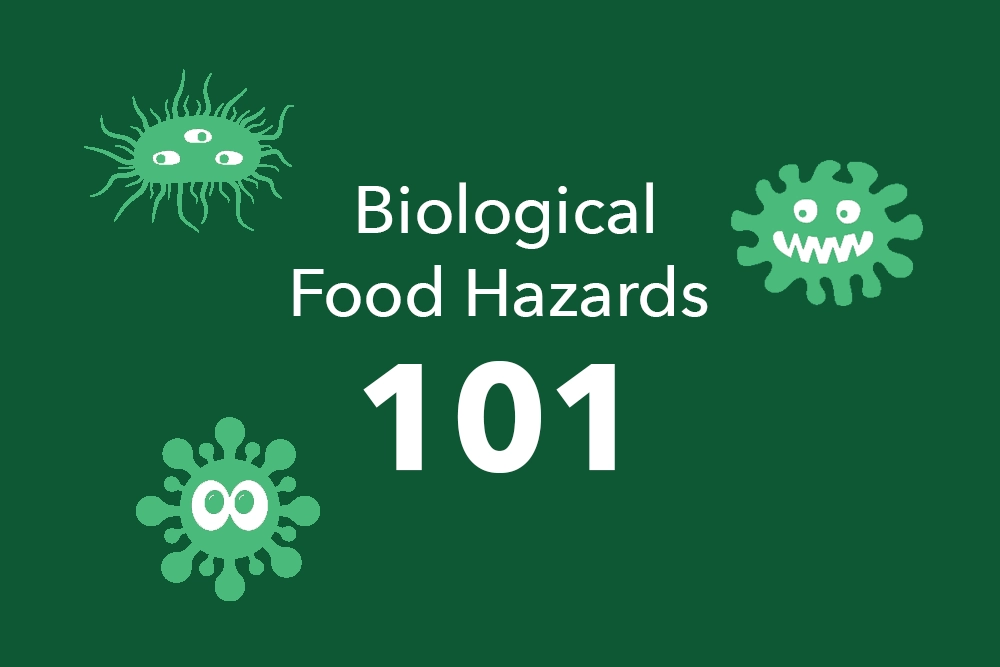 What are biological food hazards?
As the name suggests, biological food hazards relate to living organisms.
These living organisms are known as pathogens because they cause diseases or foodborne illnesses.
There are four main types of biological food hazards or pathogens:
bacteria
viruses
fungi
parasites
Except for some fungi like mold that you can see on food, you cannot see, feel, smell, or taste these pathogens.
Food that becomes contaminated with a biological food hazards can cause symptoms such as vomiting, diarrhea, nausea, abdominal pain, and fever.
The onset of these symptoms as well as the duration and severity varies depending on the biological hazard and the resulting foodborne illness.
In severe cases, foodborne illnesses can lead to death.
While no one is immune from them, certain populations are more likely to develop a foodborne illness and experience severe symptoms or require hospitalizations from them.
These populations are known as highly susceptible populations, and they include:
preschool-aged children (age 5 years and younger)
older adults (age 65 years or older)
pregnant women
immunocompromised people, including those with cancer, diabetes, or other chronic health conditions
You can use the acronym YOPI — young, old, pregnant, and immunocompromised — as a way to remember the four groups if highly susceptible populations.
Summary
Biological food hazards are disease-causing organisms known as pathogens. They include bacteria, viruses, fungi, and parasites.
How biological food hazards occur and spread
Contamination of food items by other living organisms is known as biological contamination.
There are several ways through which biological food hazards occur and spread.
Some of the most common ways include:
purchasing food from unsafe sources
using contaminated equipment
Poor personal and hand hygiene can lead to cross-contamination, which is the spread of bacteria, viruses, and other biological food hazards from one food or surface to another.
Cross-contamination can also occur if you store raw animal foods above ready-to-eat (RTE) foods like salads and sandwiches in the refrigerator, or use the same cutting board and knife to chop a head of lettuce after cutting raw chicken.
Another way cross-contamination can also occur is if you handle raw meat and then handle RTE foods without washing your hands and using a barrier between your hands and the RTE food like single-use gloves.
Food handlers can also spread foodborne illnesses if they are sick with one.
As such, if you experience one of the following symptoms, you must report it to your manager:
vomiting
diarrhea
jaundice (yellowing of the skin and eye whites)
sore throat with a fever
Also let your manager know if you have an infected wound, which can cause pain, swelling, redness, and pus or fluid discharge or drainage.
Summary
Biological food hazards occur and spread through a variety of ways, with poor personal and hand hygiene being the most common.
Other types of food hazards
While biological hazards — mainly bacteria and viruses — cause the majority of foodborne illnesses, it's important to be aware of the other types of food hazards and how to prevent them.
Physical food hazards
Physical food hazards are things like hair, bandages, jewelry, fingernails, dirt or other debris, or pieces of cooking equipment that can get into food.
These items might choke, cut, or otherwise hurt someone if they get into food.
A physical hazards also includes insects and pests like rodents or cockroaches that can get into food.
As with biological hazards, good personal hygiene prevents most physical hazards.
Here are ways to prevent physical food hazards:
keep fingernails trimmed, filed, and maintained
wear a hair restraint, such as a hat or hair covering or net
replace cooking ware or utensils that are worn, chipped, or cracked
have a good pest control program
wash produce to remove dirt
cover bandages on your wrist, hand, or finger with a single-use glove
Chemical food hazards
Chemical food hazards are any type of chemical such as a cleaning agent or pest control product that contaminates food.
Other chemical hazards include metals like copper or zinc that can leach or pass into food from cooking equipment.
A food containing a common food allergen served to a person with a food allergy is another example of a chemical hazard.
Here are ways to prevent chemical hazards:
store sanitizers and other chemicals separately from food and items that can come in contact with food
label spray bottles containing cleaning chemicals that are not in their original container so they are not mistakenly used for something different
prevent cross-contact, which is the transfer of a food allergen from one surface or food to another food
Summary
Like biological food hazards, physical and chemical hazards can make people sick or injure them so it's important to know how to prevent them.
The bottom line
A biological hazard is a disease-causing organism known as a pathogen and includes bacteria, viruses, fungi, and parasites.
There are several ways through which biological hazards occur and spread, with poor personal and hand hygiene being among the most common.
Knowing how to prevent the development and spread of physical and chemical food hazards is also crucial for keeping your customers safe from foodborne illnesses or food-related injuries.
Get Our Food Safety Newsletter
Be among the first to know when we release new courses and articles.