NSF Standards for FoodService Equipment 101
Health inspectors and surveyors rely on sanitation standards to ensure food equipment like counters, dishwashers, ranges, and even pots and pans are properly designed to reduce the risk of foodborne illnesses.
The NSF helped facilitate the development of these standards, but you may wonder what the NSF standards are and whether the equipment you have in your foodservice operation meets them.
This article explains everything you need to know about the NSF standards for foodservice equipment.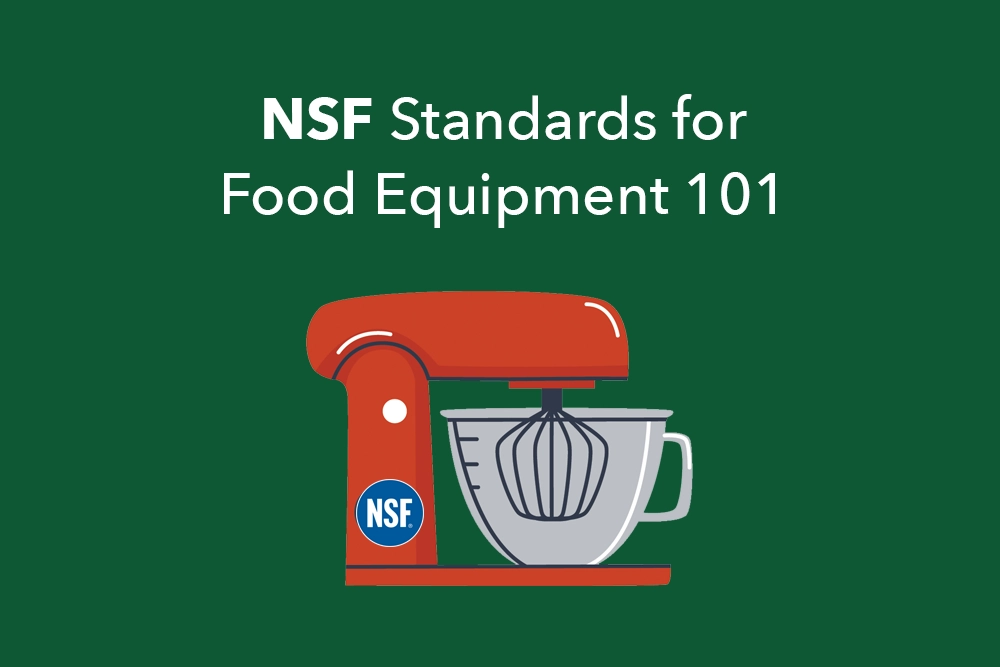 The NSF food equipment standards
NSF — formally known as the National Sanitation Foundation — is an international public health and safety organization.
They develop public health standards and provide certifications for various industries, including automotive, aerospace, building and construction, water, dietary supplements, and OTC drug industries.
NSF has also facilitated the development of standards for commercial food equipment in accordance with the American National Standards Institute (ANSI).
These standards include requirements on material safety, design, construction, and product performance to ensure good sanitation.
Indeed, unsanitary equipment design is a common cause of food contamination and consequently foodborne illnesses.
Poorly designed equipment can make hard-to-reach areas more difficult to clean, leading to contamination issues.
At the same time, poorly constructed equipment could allow harmful compounds to leach or physical material to break off into food and contaminate it.
NSF standards also ensure product performance, such as the ability of hot holding equipment to hold food out of the temperature danger zone.
NSF standards for foodservice equipment
NSF has facilitated the development of many standards to ensure sanitary food equipment.
These standards establish a minimum food protection and sanitation requirement for the materials, design, construction, and performance of everything from food preparation tables to warewashing machines to supplemental flooring like mats.
Here are the NSF standards for foodservice equipment (1):
NSF/ANSI 2. Food equipment
NSF/ANSI 3. Commercial warewashing equipment
NSF/ANSI 4. Commercial cooking, rethermalization, and powered hot holding and transport equipment
NSF/ANSI 5. Water heaters, hot water supply boilers, and heat recovery equipment
NSF/ANSI 6. Dispensing freezers
NSF/ANSI 7. Commercial refrigerators and freezers
NSF/ANSI 8. Commercial-powered food preparation equipment
NSF/ANSI 12. Automatic ice-making equipment
NSF/ANSI 13. Refuse processors and processing systems
NSF/ANSI 18. Manual food and beverage dispensing equipment
NSF/ANSI 20. Commercial bulk milk dispensing equipment
NSF/ANSI 21. Thermoplastic refuse containers
NSF/ANSI 25. Vending machines for food and beverages
NSF/ANSI 29. Detergent and chemical feeders for commercial spray-type dishwashing machines
NSF/ANSI 35. high-pressure decorative laminates (HPDL) for surfacing foodservice equipment
NSF/ANSI 36. Dinnerware
NSF/ANSI 37. Air curtains for entranceways in food and foodservice establishments
NSF/ANSI 51. Food equipment materials
NSF/ANSI 52. Supplemental flooring
NSF/ANSI 59. Mobile food carts
NSF/ANSI 169. Special-purpose food equipment and devices
While NSF is the primary organization for establishing the suitable criteria for the sanitary design of commercial food equipment, standards developed by other accreditated organizations or government agencies may also be suitable.
For example, Underwriter Laboratories (UL) developed the standards for infrared thermometers (ANSI/UL 2333).
Summary
NSF standards for food equipment include requirements for material safety, design, construction, and product performance.
How to identify NSF foodservice equipment
The Food and Drug Administration (FDA) Food Code doesn't require that you use NSF foodservice equipment at your restaurant or foodservice operation, but doing so ensures that you comply with their sanitation requirements.
NSF-certified equipment is easily cleanable, constructed of durable materials designed to withstand repeated use and cleaning, and performs the way its intended, for example, keep food hot or cold.
Collectively, these factors save you time and money and decrease the risk of food safety violations.
Foodservice equipment that meets a specific NSF standard will usually contain an NSF stamp or logo on the product.
For example, food trays usually have the NSF mark etched on the back, knives have it stamped on the blade, and equipment like meat slices and can openers often have a sticker.
Other times, the NSF mark will be on the product label or packaging, making it difficult in some cases to know whether the product is NSF certified.
In these instances, you can enter information about the product in a search here to quickly find out if it is NSF certified.
Summary
While not necessarily required, having NSF-certified foodservice equipment ensures that it's designed and constructed to meet the FDA's sanitation requirements.
The bottom line
NSF is an international public health and safety organization.
They facilitated the development of food equipment standards for material safety, design, construction, and product performance that meet the FDA's sanitation guidelines.
NSF certification isn't required by the FDA, but it ensures that the equipment design and construction are easily cleanable and durable and that it performs as intended to ensure food safety.
Get Our Food Safety Newsletter
Be among the first to know when we release new courses and articles.