Ice Machines and Food Safety (Plus, How to Sanitize)
Whether used in beverages, to chill foods, or in cold food displays, ice has several important functions in foodservice.
While most people assume ice is safe, it can easily become contaminated and make people sick if it's handled improperly or the ice machine isn't cleaned and sanitized regularly.
This article explains everything you need to know about ice machines and food safety so you can protect those you serve from foodborne illnesses.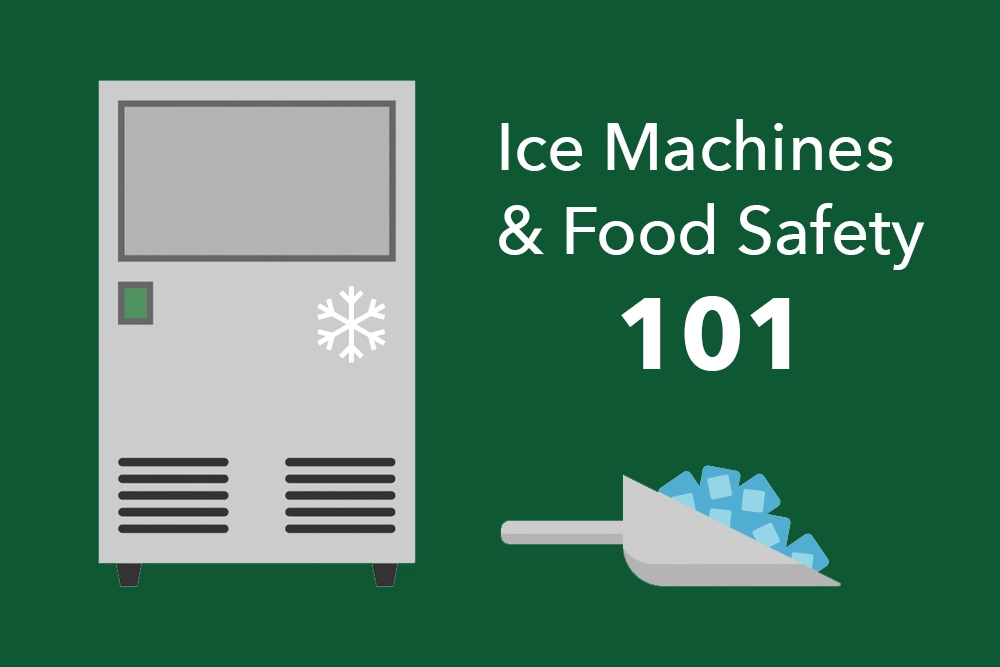 How ice becomes contaminated
Ice is no different from food — it can become contaminated and cause foodborne illnesses.
And unfortunately, dirty, contaminated ice is more common than you may think.
Ice can become contaminated through:
unsafe water
unsafe handling
poor cleanliness
improperly cooling foods and drinks
Here's an overview of each and what you can do to keep ice safe from contamination.
Unsafe water
If your ice is made from unsafe or unpotable water, there's nothing you can do to make it safe.
Potable — or clean drinking water — can become contaminated if there is an issue in the plumbing system that causes a cross-connection.
A cross-connection may cause a change of pressure in a water supply line that forces water to flow opposite to its intended direction, allowing contaminates to enter the potable supply.
You can prevent cross-connections with the use of an air gap or backflow prevention device.
An air gap ensures that the potable water supply is separated from an air space from the highest possible flood level of the fixture.
Unsafe handling
Like a spatula, pair of tongs, or serving scoop, an ice scoop is a utensil.
Because it comes in contact with ice, you should clean and sanitize it at least daily.
Always store the scoop outside of the bin on a tray or in a holder when not in use so that the handle — which can easily become contaminated — doesn't come in contact with the ice.
However, you can store scoops handle-up in stand-alone ice wells and bins, such as those used in bars and restaurants (1).
In either case, always use an ice scoop when handling ice — never a glass, and most certainly not your hands.
Scooping ice with a glass may be more convenient but if shards of the glass were to break off into the ice, you would never know, leading to physical contamination.
It's also good practice to wash your hands before scooping ice.
Poor cleanliness
Although ice machines operate at a cold temperature, bacteria and mold can still accumulate over time.
This makes it important to stick with a regular cleaning and sanitizing schedule.
It's also best to have a technician perform regular maintenance to ensure the various parts of the machine are in working order, which not only extends the life of the machine but can make it easier to prevent bacteria and mold growth.
Once bacteria and mold growth occur, it becomes much more difficult to get rid of it.
Cooling foods and drinks
Ice machines with bins are designed to produce and hold ice only.
Therefore, you should never store items — whether foods or beverages — in an ice machine bin.
Doing so can transfer bacteria and other contaminants from the package or container to the ice.
If you need to transport ice from the bin to another location, always use designated sanitary ice buckets or totes.
Also, never return unused ice to the ice machine bin as this can lead to contamination.
Summary
To prevent ice contamination, ensure there are no cross-connections with your ice maker, handle ice with an ice scoop only, and regularly clean and sanitize the machine. Also, never store foods or drinks in the bin.
How to clean and sanitize an ice machine
You should always clean and sanitize your ice machine according to the manufacturer's instructions.
However, the U.S. Army Center for Health Promotion and Preventive Medicine (USACHPPM) developed a good procedure for cleaning contaminated ice machines:
Turn off or unplug the machine.
Turn off the water supply line to the machine.
Empty all remaining ice in the machine.
Drain all water from the machine.
Remove all ice-contact parts from the machine.
Wash all parts in hot water with detergent in a three-compartment sink. Use a brush for metal parts, and a cloth for gaskets and other nylon or rubber parts.
Rinse thoroughly in clean water.
Sanitize parts in a solution of one ounce of bleach in three gallons of water. Leave in the solution for 30 seconds. Remove and let air dry.
Reassemble the machine. Wipe all exposed surfaces with a fresh chlorine solution. Let air dry.
Restart the machine. Discard the first ice reproduced.
Other NSF-certified machines are designed to have a sanitizing solution circulate through them so you don't have to remove any parts.
Summary
While you should always follow the manufacturer's instructions for cleaning and sanitizing your ice machine, the USACHPPM developed a good procedure you can use for machines that have removable parts.
Choosing an ice machine
There are several factors to consider when choosing an ice machine for your foodservice operation, including peak ice consumption, preferred ice type, and workspace.
Here's a quick overview of the various types:
Modular, or ice machine head: These produce a large amount of ice and should be used with a separate unit that can store or dispense the ice.
Undercounter ice machines: These combine an ice machine with a storage bin and fit under most high counters.
Countertop ice dispenser: These don't have a storage bin but they are compact and fit nicely on countertops.
Combination ice and water machines: These compact units sit on countertops and dispense both water and ice.
These machines can produce different types of ice, including cubes, nuggets, and flakes.
The type of ice, like the type of machine, depends on various factors specific to your foodservice operation and the customers or patients you serve.
Look for ice makers that have been certified by NSF.
NSF is an organization that certifies products that meet standards for design, performance, and cleanability.
Summary
Consider peak ice consumption, preferred ice type, and workspace when deciding which type of ice maker is best for your foodservice operation.
The bottom line
Ice is no different than food — it too can become contaminated and spread bacteria.
To keep ice safe, ensure there are no cross-connections present with your ice machine, handle ice safely using an ice scoop, and regularly clean and sanitize your machine.
Also, avoid storing any food or beverage in the ice machine bin.
Follow the manufacturer's guidelines to clean and sanitize your ice machine, otherwise, the USACHPPM developed guidelines that you can follow for machines without removable parts.
Consider peak ice consumption, preferred ice type, and your workspace when deciding which ice maker is best for your foodservice operation.
Get Our Food Safety Newsletter
Be among the first to know when we release new courses and articles.