How Should a Thermometer Be Dried?
Food thermometers are a kitchen staple.
Without them, you have no way of accurately knowing whether food is being cooked to or held or stored at a safe temperature.
Because food thermometer stems or probes are a food contact surface, you must clean and sanitize them after each use.
However, you may wonder how you should dry them.
This article explains how you should dry a food thermometer, and provides other tips for safe thermometer use and calibration.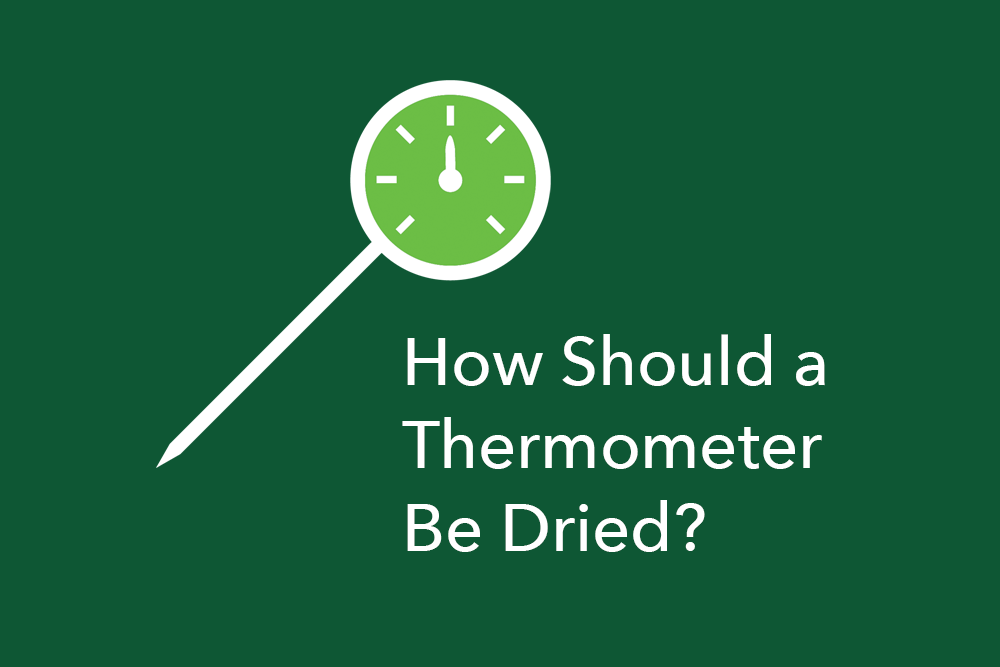 How to dry a food thermometer
There are several types of food thermometers available, each varying in read speed, food placement depth, and ability to be calibrated.
Of the various types, instant-read, bimetallic stemmed thermometers tend to be the most popular among food establishments, since they are easy to calibrate, inexpensive, and accurate.
Here is the anatomy of a bimetallic stemmed thermometer: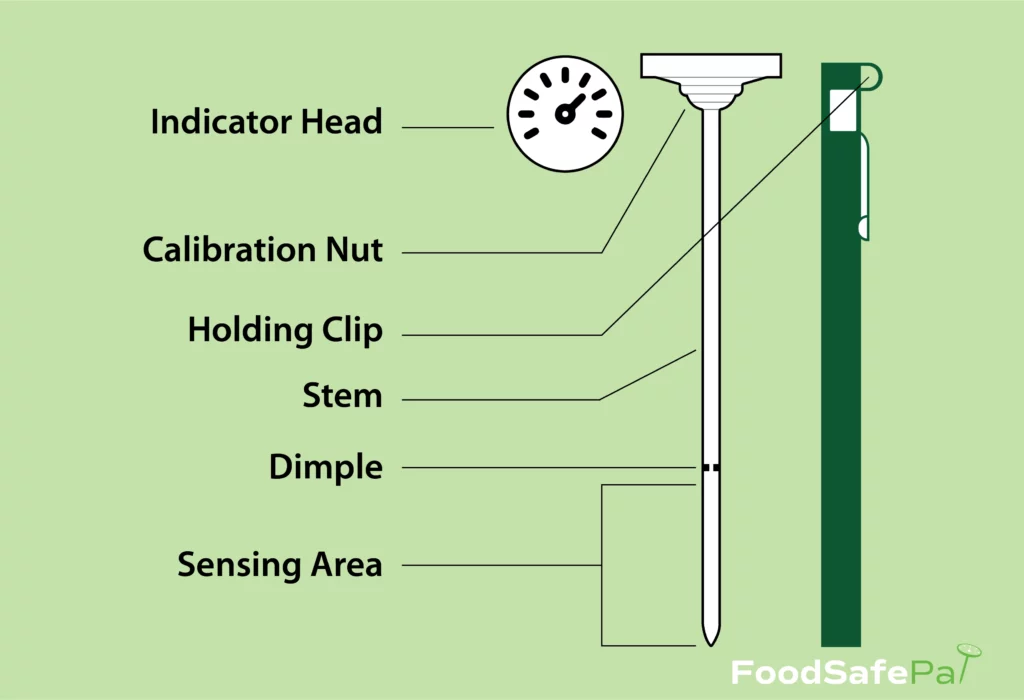 Regardless of the type, however, because the food thermometer stem comes in contact with food, you must clean and sanitize it after each use.
Cleaning the stem helps remove any food debris and grease, while sanitizing kills bacteria and other pathogens or reduces them to safe levels.
Alcohol swabs are commonly used to sanitize the stem, but you can also dip the stem in a three-compartment sink.
In either case, you should always let air-dry the thermometer after sanitizing.
Using a paper towel or rag — even if clean — to dry the thermometer can not only recontaminate the stem, but also make the sanitizer less effective or even useless.
Summary
Whether using an alcohol swab or the sanitizing solution of a third-compartment sink, always allow the thermometer to air-dry.
How to calibrate a thermometer
A thermometer is only as useful as the accuracy of its reading.
Because thermometers can become uncalibrated — usually from being tossed around or from being old — you must regularly check their calibration and recalibrate as necessary.
Using an inaccurate thermometer — even if off just a few degrees — could lead you to believe you're cooking food to a safe internal temperature or holding or storing food outside of the temperature danger zone when you aren't.
Consequently, this could make someone seriously ill with a foodborne illness.
There are two ways you can calibrate a thermometer — the ice water or boiling water method.
The ice water method — also known as the freezing-point method — tends to be preferred since it's safer and faster.
Here are the steps to calibrate your thermometer using the ice water method:
Fill a large glass with finely crushed ice and fill it to the op with water. Stir well.
Immerse the thermometer stem at least 2 inches into the mixture, avoiding contact with the sides or bottom of the glass.
After at least 30 seconds of submersion, and without removing the stem from the ice, hold the adjusting nut under the thermometer head with a suitable tool and turn the head so the pointer reads 32ºF (0ºC), the point at which water freezes.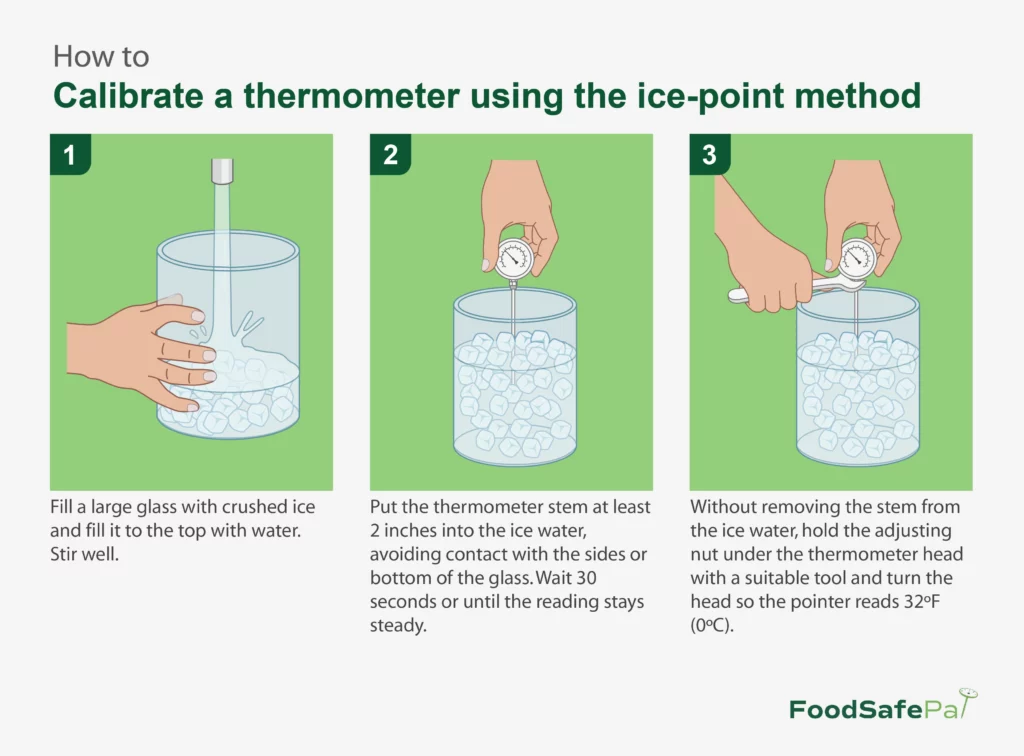 Download this food thermometer calibration poster for FREE!
Your thermometer should be within 2ºF (1ºC) accuracy.
Some types and models of thermometers cannot be calibrated. In these instances, you should toss it if it's inaccurate by more than 2ºF (1ºC).
Summary
Regularly check the calibration of your thermometers and recalibrate them if they are not within 2ºF (1ºC) accuracy. If your thermometer is not within this accuracy range and you cannot calibrate it, toss it.
How to use a food thermometer
Ensuring that your food thermometer is accurately calibrated is just one part of the equation, you must also make sure you use it correctly.
When taking the temperature of meats, insert the thermometer stem into the thickest part, away from bone, fat, or gristle.
If you're cooking or hot-holding larger items like beef roast, check the temperature in several places to ensure all areas are cooked to or held at a safe temperature.
When measuring the temperature of a thin food food like a hamburger patty or pork chop, insert the probe inside the food so that the sensing area reaches the center.
Never rely on the temperature gauge of cold- or hot-holding equipment as this measures the temperature of the unit, not the internal temperature of the food.
Always maintain good hand hygiene while taking food temperatures and use a barrier like tongs or single-use gloves to hold or position foods to obtain a good reading.
Also, don't forget to wash and sanitize the thermometer stem or probe after each use and allow it to air-dry.
Summary
Take the temperature in the thickest part of a food, away from bone, fat, or gristle. For thin items, insert the probe through the side so the sensing area reaches the center.
The bottom line
Always allow a food thermometer to air-dry after cleaning and sanitizing — never use a rag or paper towel, and certainly never your clothing.
Regularly check to ensure your food thermometer is calibrated within 2ºF (1ºC) accuracy, and recalibrate using the ice water method as necessary.
Know how to safely and accurately use a thermometer to ensure accurate readings while avoiding contamination.
Get Our Food Safety Newsletter
Be among the first to know when we release new courses and articles.