Pass Your Food Handler Test: Know These 10 Things
After you complete the course, the food handler test is the last thing that stands between you and your food handler card.
Most food handler tests — including FoodSafePal's — consist of 40 multiple-choice questions on key food safety principles.
If you know these principles, you're guaranteed to pass the food handler exam and reap all the benefits of holding a food handler card.
However, while it's important to pay close attention throughout the entire course, you may wonder which food safety principles are the must-knows to pass your exam.
This article lists the top 10 food safety principles you must know to pass your food handler test — the first time.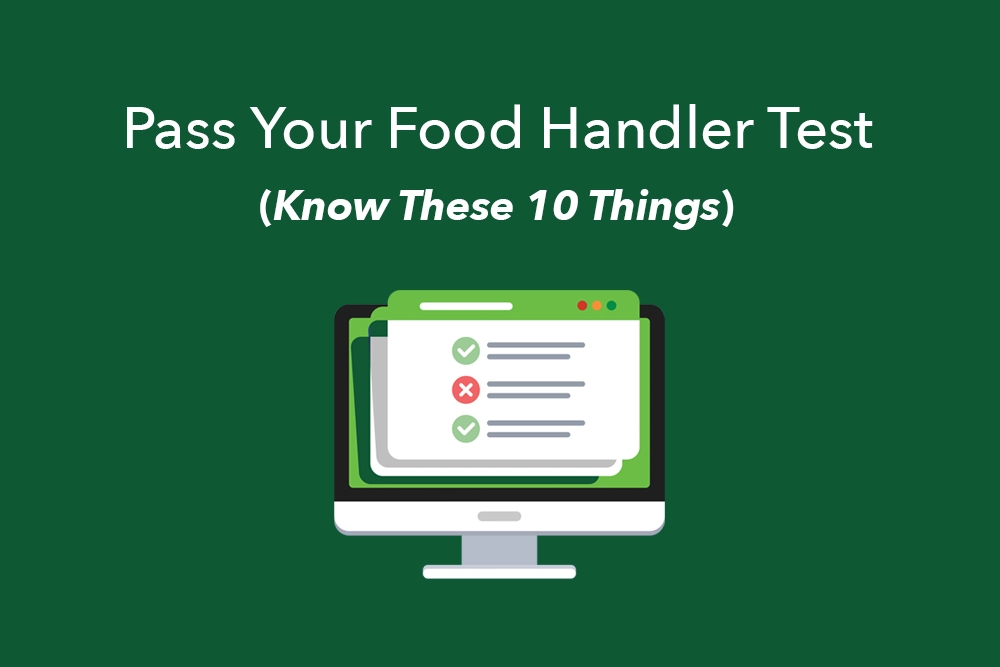 10 things you must know to pass your food handler test
Here are the 10 most important food safety principles to know to pass your food handler test and earn your food handler card:
1. The temperature danger zone
The temperature danger zone is a temperature range at which bacteria grow rapidly and make food unsafe.
You must know that the temperature danger zone is between 41ºF and 135ºF (5ºC and 57ºC) (1).
This means that you must hold cold foods at 41ºF or below and hot foods at 135ºF or above.
2. How to handle RTE foods safely
Except with special approval from your health department, you should never handle ready-to-eat (RTE) foods with your bare hands (1).
RTE foods don't require further preparation or cooking before serving — think sandwiches, bakery products, burgers, pizza, and washed fruits and vegetables.
You must know that there needs to always be a barrier between your hands and RTE foods.
This barrier can be tongs, deli tissue, a spatula, or other serving utensil.
You can also use single-use gloves, but remember that gloves are a food-contact surface and you can contaminate them if you touch a contaminated surface and then handle RTE food.
3. Handwashing
Proper handwashing is one of the best ways to prevent the spread of foodborne illnesses.
Owing to the importance of handwashing, you must know when, how, and where to wash your hands to pass your food handler test.
Here are the instances in which you must wash your hands due to becoming contaminated:
after entering a food preparation area
before putting on food-safe gloves and between glove changes
before beginning food preparation
before handling clean equipment and utensils
after handling soiled dishes or utensils
after touching your face or other parts of your body
after using the restroom
Follow these steps to properly wash your hands:
Wet your hands with clean, running warm water.
Apply soap and rub all surfaces of your hands and fingers together vigorously for 10-15 seconds.
Don't forget to scrub under your fingernails and between your fingers, thumbs, and palms.
Rinse your hands well.
Dry your hands with a single-use paper towel.
Use a single-use paper towel to turn off the faucet.
From start to finish, the entire handwashing process should take at least 20 seconds.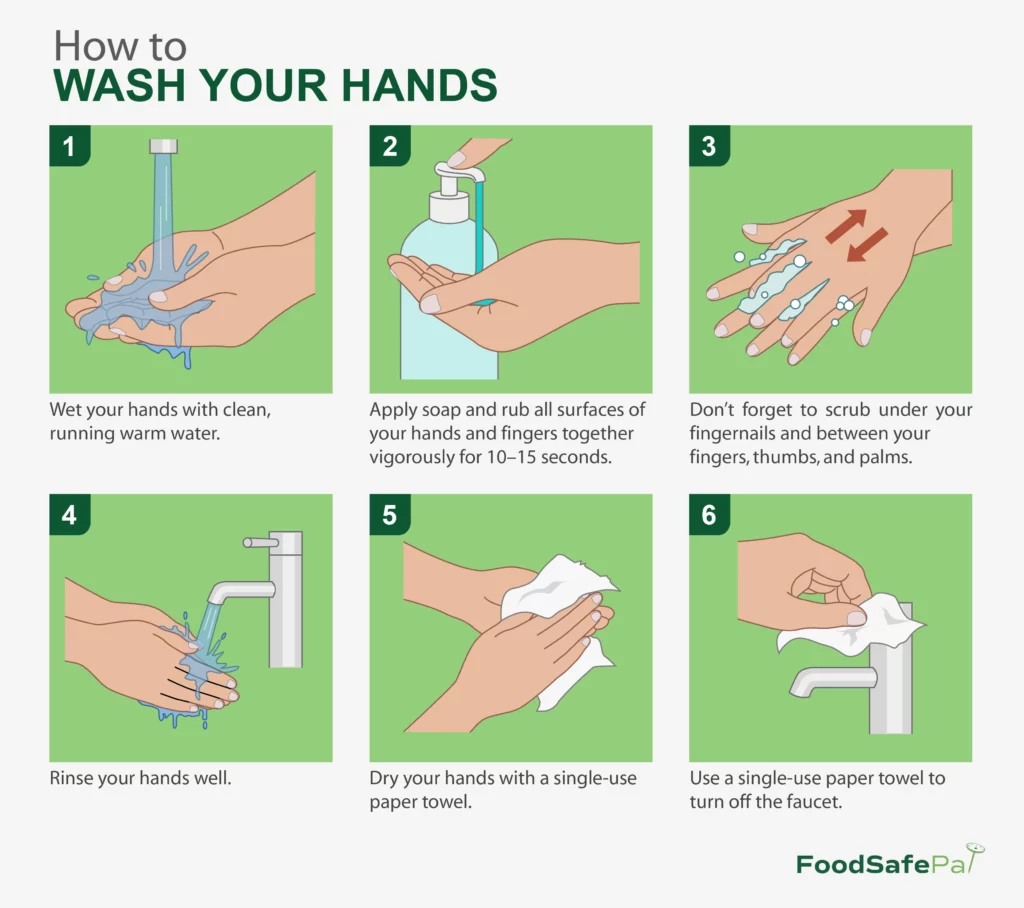 Download this handwashing poster for FREE!
Only wash your hands in a sink designated for handwashing — which can include the bathroom. Never wash them in a sink used to prepare foods, wash dishes, or dispose of mop water or other liquid waste.
4. Good personal hygiene and illnesses
There are many aspects of good personal hygiene that you must know to keep food safe.
They are (1):
Keep your fingernails trimmed, filed, and maintained so the edges are smooth.
Fingernail polis and artificial nails are allowed but only when covered with a single-use glove at all times.
Plain rings like wedding bands without stones or etching are the only jewelry allowed.
Always remove your apron when leaving the food preparation areas, such as when taking out the trash or using the restroom.
Only eat, drink, or use tobacco in designated areas, away from food and food-contact surfaces.
Always wear a hair restraint, such as a hat, hair covering or net, and beard restraint to keep food from falling into or touching food.
You also must know the five signs and symptoms you must report to your manager since they could indicate you have a foodborne illness.
They include (1):
vomiting
diarrhea
jaundice (yellowing of the skin and eye whites)
sore throat with a fever
Also, cover an infected wound on your hand with a waterproof bandage and wear a single-use glove.
5. Minimum internal temperatures
Meat and other animal products are common carriers of foodborne pathogens.
To kill these pathogens and make these foods safe to eat, you must cook them to their safe internal temperatures.
Here are the minimum internal temperatures that you must know (1):
135ºF (57ºC): Plant foods that are cooked for hot-holding like rice or pasta.
145ºF (63ºC) for 15 seconds: Eggs served immediately and intact meats and seafood.
145ºF (63ºC) for 4 minutes: Roasts.
155ºF (68ºC) for 17 seconds: Cooked, ground, tenderized, or flavor-injected meats and hot-held eggs.
165ºF (74ºC) < 1 second (instantaneous): All poultry, stuffed meats, and stuffed pasta.
You also must know how to accurately check the temperature using a calibrated food thermometer.
When taking the temperature of meats, insert the thermometer into the thickest part, away from bone, fat, or gristle.
If you're cooking larger items like a beef roast, check the temperature in several places to ensure all areas reach the safe minimum internal temperature.
When measuring the temperature of a thin food — less than 1/2″ thick — like a hamburger patty or pork chop, insert the thermometer probe into the side of the food so the sensing area reaches the center.
6. Safe cooling methods
Safely cooling foods make leftovers safe to eat — assuming they have been stored properly.
You must know the four acceptable methods for cooling foods to pass your food handler test (1):
Set up an ice-water bath. Place food in a prep sink — never a handwashing sink — or a large pot that is filled with ice water.
Stir the food. Use an ice paddle — a plastic paddle that you fill with water and freeze — to stir the food frequently.
Use a blast chiller. As the name suggests, these blast food with cold air to quickly lower their temperature.
Add cold water or ice. Make soups, stews, stocks, brins, and other liquid items with less water, and then add water or ice after it's finished cooking to cool.
You also must know you must cool foods from 135ºF (57ºC) — the minimum temperature at which foods must be hot held — to 70ºF (21ºC) within two hours, and then from 70ºF (21ºC) to 41ºF (5ºC) within four hours.
The entire process — known as the two-stage cooling method — should take six hours or less.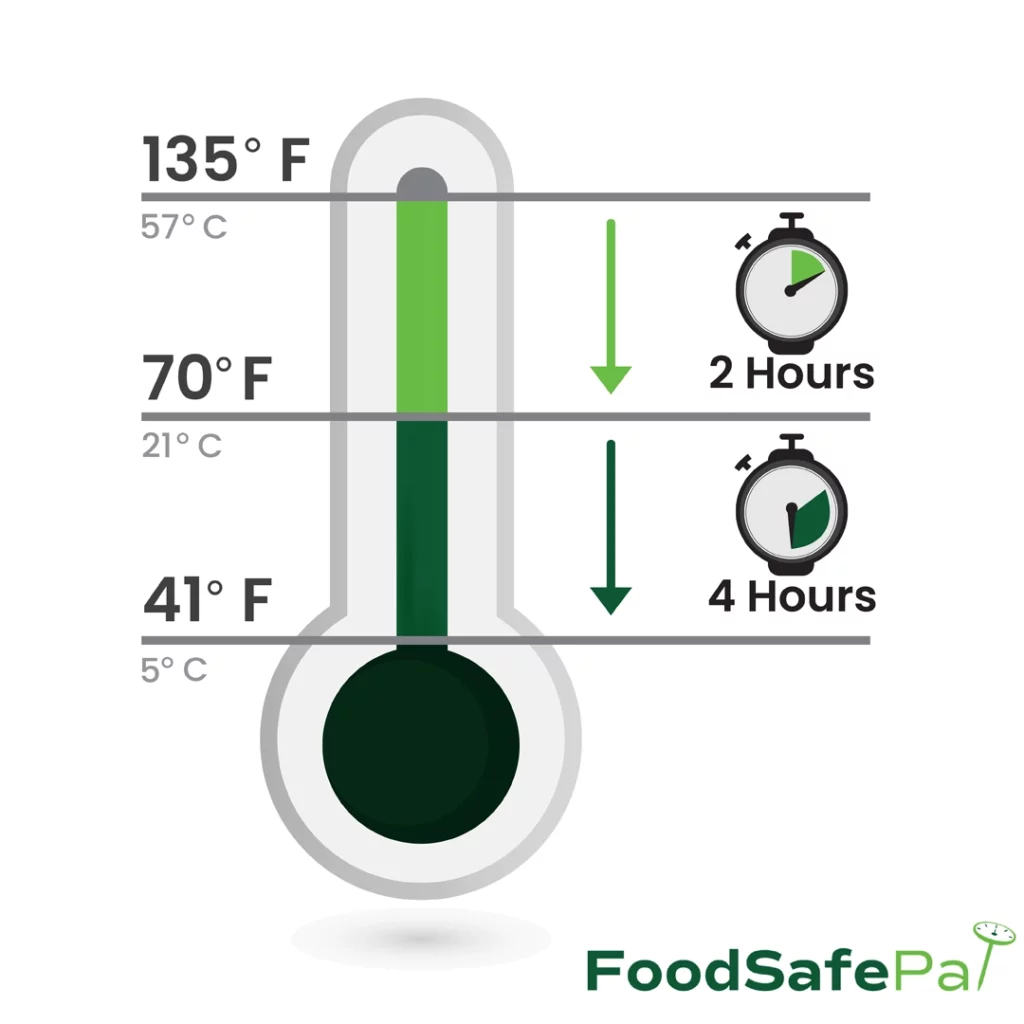 Download this two-stage cooling method poster for FREE!
You can speed up the cooling process by separating dense or liquid items into shallow pans and cutting thick items into smaller pieces.
Leave the containers uncovered or loosely covered during cooling if there is no risk of contamination from overhead.
7. Safe reheating methods
Reheating food reduces any bacteria that may be present to safe levels.
But there are certain guidelines you must know when reheating food for hot-holding to ensure its effectiveness.
Those guidelines are (1):
Reheat time-temperature controlled for safety (TCS) foods like poultry, meats, rice, and potatoes to at least 165ºF (74ºC) for 15 seconds within two hours.
Reheat shelf-stable, commercially prepared RTE food like soup concentrate to the minimum hot-holding temperature of 135ºF (57ºC) within two hours.
You also must know that you can only use approved equipment for reheating food like an oven, a microwave, a toaster oven, an air fryer, or an instant pot.
Hot-holding equipment like a steam table or something like a crock pot or slow cooker isn't allowed since these devices wouldn't be able to reheat food to a safe temperature quickly enough.
For food that you won't hot-hold — like pizza — you can serve it cold or reheat it to any temperature as long as it has been cooked and cooled properly.
8. Safe storage practices
Safely storing food prevents cross-contamination and discourages pests like rodents.
You must know to store food in the refrigerator in order of its minimum internal cooking temperature, with those that require the highest on the bottom (1):
RTE foods and leftovers
seafood
whole cuts of beef and pork
ground meats and seafood
whole and ground poultry
For TCS foods, you must know to mark the date or day by which they need to be sold, eaten, or thrown out if they will be held for longer than 24 hours.
To pass your food handler test, you also must know that you can store TCS foods in the refrigerator for up to seven days, with the day you opened or prepared the food counting as day 1.
In dry storage, you must know to store all food and food-contact surfaces like utensils and napkins must be stored at least 6 inches from the floor.
9. The major food allergens
Of the more than 100 known food allergens, there are nine — known as the major food allergens — that account for most food allergens.
You must know these nine, which include (1):
milk
eggs
fish, such as cod, bass, and salmon
shellfish, such as crab, lobster, and shrimp
tree nuts, such as almonds, pecans, and walnuts
peanuts
wheat
soybeans
sesame
You also must know how to prevent cross-contact — the transfer of food allergens from one food or surface to another.
When preparing a special order for someone with a food allergy:
wash your hands and change your gloves
clean and sanitize your work area, including food-contact surfaces
keep the order separate from others
You may consider having dedicated equipment like cutting boards or microwaves for preparing special orders.
10. How to avoid cross-contamination
Cross-contamination is the transfer of disease-causing organisms — known as pathogens — from one food or surface to another.
Cross-contamination is a leading cause of why food becomes unsafe and causes foodborne illnesses, so you must know how to prevent it to pass your food handler test.
Here are ways to prevent cross-contamination:
store food in the refrigerator based on its minimum internal temperature, with those that required the highest on the bottom
sanitize equipment like cutting boards and knives between working with raw animal foods and RTE foods
wash and sanitize food-contact surfaces between uses and after four hours of continuous use
maintain good personal hygiene
wash your hands, when, where, and how you're supposed to when they become contaminated
The bottom line
Everything that a food handler course covers is important, but there are certain topics that you must know to pass your food handler test.
Know the temperature danger zone, how to handle RTE foods safely, and when, how, and where to wash your hands.
You must also know about good personal hygiene, minimum internal temperatures, and safe cooling, reheating, and storage methods.
Finally, know the nine major food allergens and how to prevent cross-contamination.
Get Our Food Safety Newsletter
Be among the first to know when we release new courses and articles.