What Is the Best Way to Prevent Poor Food Safety?
There are many ways by which poor food safety causes foodborne illnesses, or food poisoning.
And while there are also many ways to prevent poor food safety, there is one thing — that if practiced all the time — would significantly reduce the incidence of foodborne illnesses.
This article discusses the best way to prevent poor food safety, and provides other tips to keep food safe at your food establishment.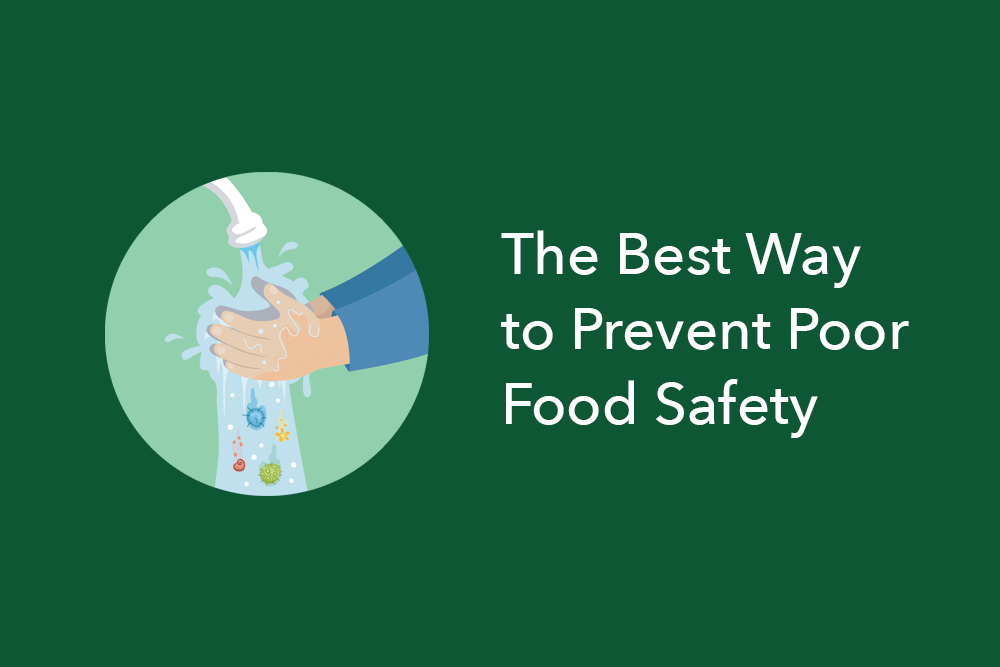 Prevent poor food safety with handwashing
The best way to prevent poor food safety is with good handwashing.
Your hands can become contaminated any time you touch a unsanitized surface, such as dirty dishes, countertops, and handles.
These surfaces can contain disease-causing organisms known as pathogens, such as bacteria and viruses, as well as physical and chemical food hazards.
Your hands can also be contaminated if touch parts of your body, especially your face, or if you you handle raw meats, unwashed produce, and aquatic animals such as shellfish in display tanks.
And even if you're hands aren't visibly dirty or you haven't touched or handled anything that would contaminate them, you can still contaminate food if you don't first wash your hands before handling food.
This is because the skin naturally carries pathogens like Staphylococcus aureus or staph.
To this point, you should never — except in rare instances — handle ready-to-eat (RTE) foods like sandwiches, pizza, cooked meats, and fruits and vegetables that have been washed and cut with your bare hands.
Unfortunately, despite its importance, most food handlers don't wash their hands correctly or when they're supposed to.
Summary
Because you can spread pathogens and other food hazards from your hands to food and food-contact surfaces, washing your hands frequently is the best way to prevent poor safety.
When, where, and how to wash your hands
Your hands, even if they appear clean, can still be contaminated with bacteria.
As such, you must wash them frequently, and any time you contaminate them, such as:
before putting on food-safe gloves and between glove changes
before handling clean equipment and utensils
when changing tasks, such as switching from handling raw or time-temperature control for safety (TCS) foods to working with RTE foods
after handling soiled dishes or utensils
after touching your face or other parts of your body
after coughing, sneezing, blowing your nose, or eating or drinking
after using the restroom
Only wash your hands in a sink designated for handwashing, never a sink that you use to prepare foods, wash dishes, or dispose of mop water or other liquid waste.
Now that you know when and where to wash your hands, you must know how to wash your hands.
While it sounds simple, most food handlers wash their hands incorrectly, which can allow pathogens to hang around and then contaminate everything you touch.
Follow these steps to ensure proper handwashing:
Wet your hands with clean, running warm water.
Apply soap and rub all surfaces of your hands and fingers together vigorously for 10-15 seconds.
Don't forget to scrub under your fingernails and between your fingers, thumbs, and palms.
Rinse your hands well.
Dry your hands with a single-use paper towel.
Use a single-use paper towel to turn off the faucet.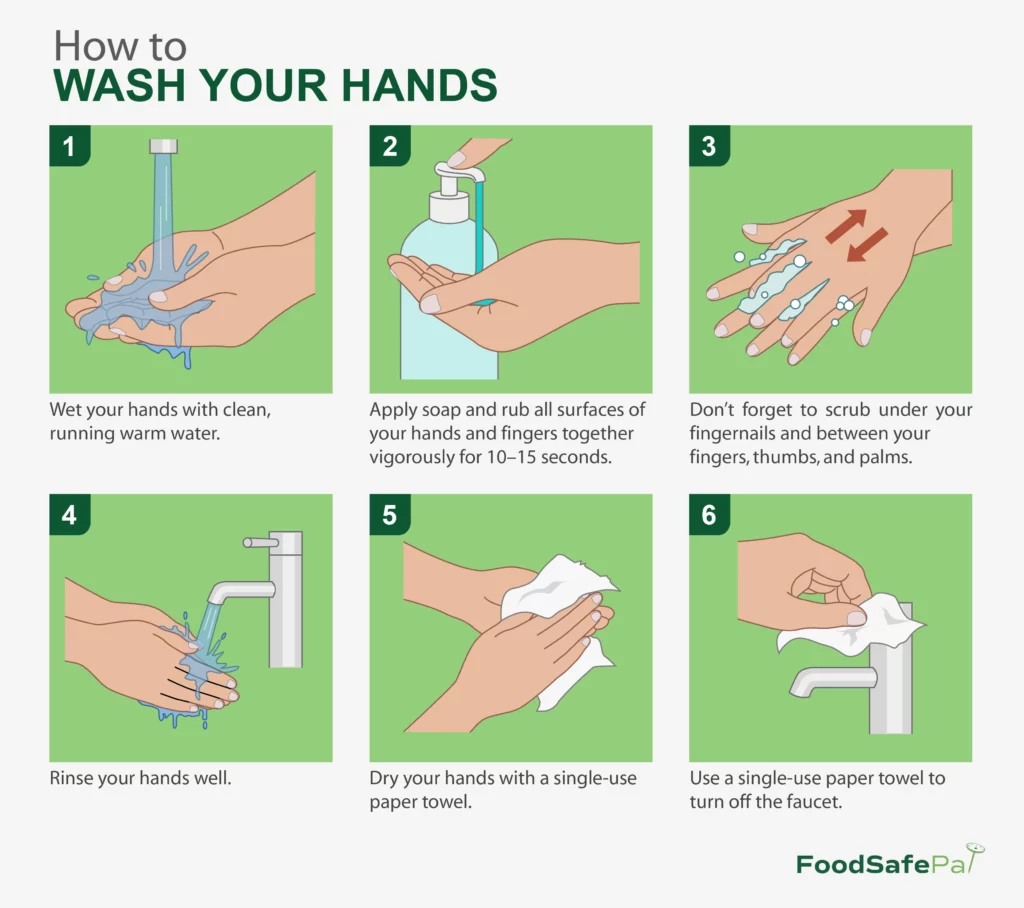 Download this handwashing poster for FREE!
From start to finish, it should take you at least 20 seconds to properly wash your hands.
Summary
Wash your hands in a designated handwashing sink whenever you contaminate them. Follow these steps to properly wash your hands.
Other tips to prevent poor food safety
There are many ways by which poor food safety can occur.
Here are some of the most common ways and what to do to keep food safe (1):
Purchasing food from unsafe sources
You can't make unsafe food safe, so it's important to purchase your food from safe sources.
Always purchase food from reputable, commercial suppliers who must comply with strict regulatory control.
Never purchase food made from home kitchens or other suppliers who have not been approved by your local regulatory authority.
Failing to cook food adequately
Cooking destroys bacteria and other pathogens that may be present, but only when cooked to the proper internal temperature.
Failing to cook food to its minimum internal temperature can allow enough bacteria to survive and make someone sick.
Always use a sanitized, calibrated food thermometer to verify that food has reached its minimum internal temperature before serving.
Holding food at improper temperatures
Holding food — whether for hot- or cold-service — within the temperature danger zone can allow bacteria to grow and multiply rapidly.
Always hold hot-held food at 135ºF (57ºC) or above, and hold cold food at 41ºF (5ºC) or below.
Just like you need to verify that you cook food to the proper internal temperature, you must also regularly ensure that food is being held at a safe temperature.
Do this by monitoring the temperature of the food at least every four hours. Always use a food thermometer, and never the temperature of the hot- or cold-holding equipment.
Using contaminated equipment
Just like your hands, equipment such as pans, cutting boards, knives, and other utensils, can easily become contaminated.
Food equipment commonly becomes contaminated if you don't wash and sanitize it between uses, or if you touch it with unclean hands.
This allows bacteria to transfer from one food or surface to another.
When this happens, it's known as cross-contamination.
Poor personal hygiene
There are many aspects of good personal hygiene — including handwashing — that you need to practice to keep food safe.
Here are some ways to ensure good personal hygiene:
Keep your fingernails trimmed, filed, and maintained so the edges are smooth.
Avoid wearing jewelry on your hands, wrists, or fingers, unless it's a plain ring without stones or etching.
Keep your outer clothing clean, and if possible, change into your work clothing at work.
Eat, drink, or use tobacco in designated areas, away from food and food-contact surfaces.
Sneeze or cough into your elbow. If you cannot control these bodily discharges, you should not work with food.
Wear a hair restraint to prevent hair or other dead skin cells from contaminating food.
You should also let your manager know if you're feeling symptoms of a foodborne illness, such as vomiting, diarrhea, a sore throat with a fever, or jaundice — yellowing of the skin and eye whites.
Summary
Food contamination can occur by various means, but the the most common reasons include, purchasing food from unsafe sources, failing to cook food adequately, holding food at improper temperatures, using contaminated equipment, and poor personal hygiene.
The bottom line
The best way to prevent poor food safety is with proper handwashing.
Always wash your hands in designated areas when they become contaminated.
Along with good handwashing, you can keep food safe by purchasing food from safe sources, cooking food to adequate temperatures, holding food at proper temperatures, using clean, sanitized equipment, and practicing good personal hygiene.
Get Our Food Safety Newsletter
Be among the first to know when we release new courses and articles.