Your Guide to Food Labeling and Dating for Food Safety
Labeling and dating food — whether in cold or dry storage — is important to keep food safe.
Labeling allows you and your coworkers to identify foods stored outside of their original container while labeling lets you know how long to keep food.
This article explains everything you need to know about food labeling and dating for food safety.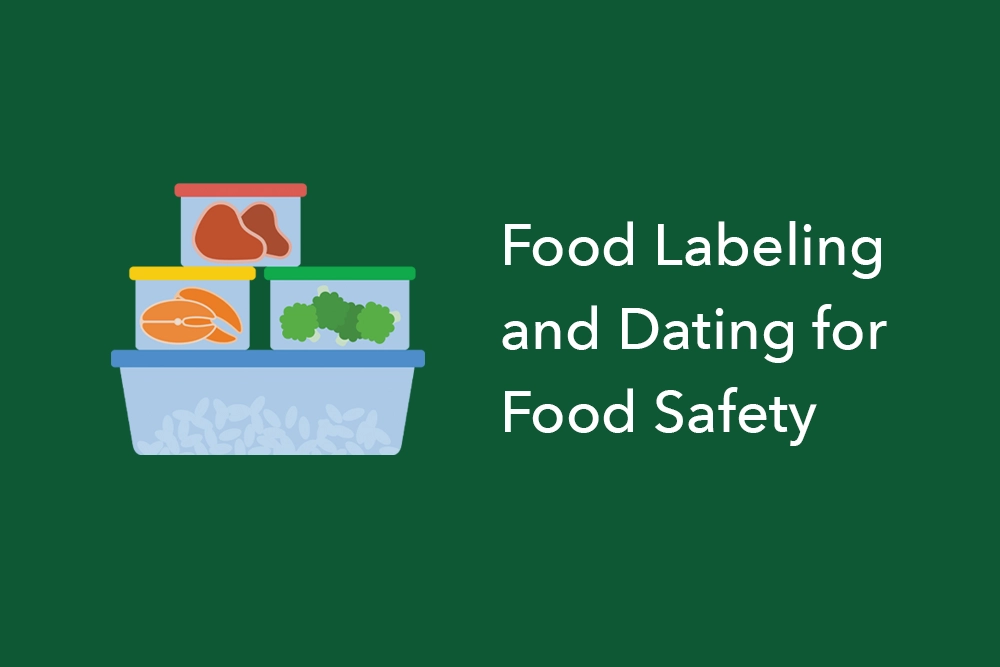 Labeling and dating for food safety
Here are the guidelines for labeling and dating food to keep it safe:
Labeling
When possible, always store food food in its original container.
This makes it easier to identify foods and any potential food allergens they may contain.
In dry storage, it's easy to identify some foods not stored in their original container like oats and pasta, but not other ingredients that you could mistake for something else, such as flour, pancake mix, or sugar.
The same is true for cold storage.
You can easily identify some foods like meats that aren't stored in their original container, but other items like mixed dishes and leftovers could be more challenging.
Thus, you must label any food that is not stored in its original container with its common name.
Dating
Dating food reduces the risk that you serve food that may be potentially unsafe if kept for too long.
For time-temperature control for safety (TCS) foods, mark the date or day by which the food needs to be sold, eaten, or thrown out if it will be held for longer than 24 hours (1).
In most cases, this date can exceed the use-by date since use-by or expiration dates are generally indicators of food quality rather than safety.
You can store TCS foods for up to seven days, with the day you opened the container or package counting as day 1 (1).
Serving food after seven days can potentially make someone sick since bacteria have had plenty of time to grow to unsafe levels from the time-temperature abuse.
For multi-ingredient dishes, mark the date of the earliest- or first-prepared ingredient.
For example, if you bake chicken on Monday for chicken pasta salad but don't prepare the pasta and vegetables until Tuesday, you must mark Sunday as the date to use or toss the chicken pasta salad using the 7-day rule.
| Day | Action |
| --- | --- |
| 1 (Monday) | Prepare Chicken |
| 2 (Tuesday) | Cook pasta, prepare vegetables, and add chicken |
| 3 (Wednesday) | – |
| 4 (Thursday) | – |
| 5 (Friday) | – |
| 6 (Saturday) | – |
| 7 (Sunday) | Serve or toss |
7-Day Rule Example
If you used the day (Tuesday) you prepared the pasta and vegetables and assembled the salad, the chicken could be stored for eight days, potentially making the dish unsafe if it's served.
Summary
Label food not stored in its original container with its common name. Mark the date on which you must serve or toss TCS foods. You can keep TCS foods for up to seven days.
Food safety guidelines for safe storage
Labeling and dating food is a necessary component of food safety, but also important is how you store the food.
Cold storage
Keep fridges at 41ºC (5ºC) or below, and freezers at a temperature cold enough to keep food frozen solid — usually around 0ºF (-18ºC).
Keep thermometers near the top of the door in the refrigerator and freezer as this is the warmest part.
Monitor the temperature at least twice daily, once in the AM and again the in PM.
To prevent cross-contamination, store foods in the refrigerator based on their minimum internal temperature, with those that require the highest on the bottom.
Here's the proper storage order for refrigerated foods, in order of top to bottom (1):
ready-to-eat (RTE) foods and leftovers
seafood
whole cuts of beef and pork
ground meats and seafood
whole and ground poultry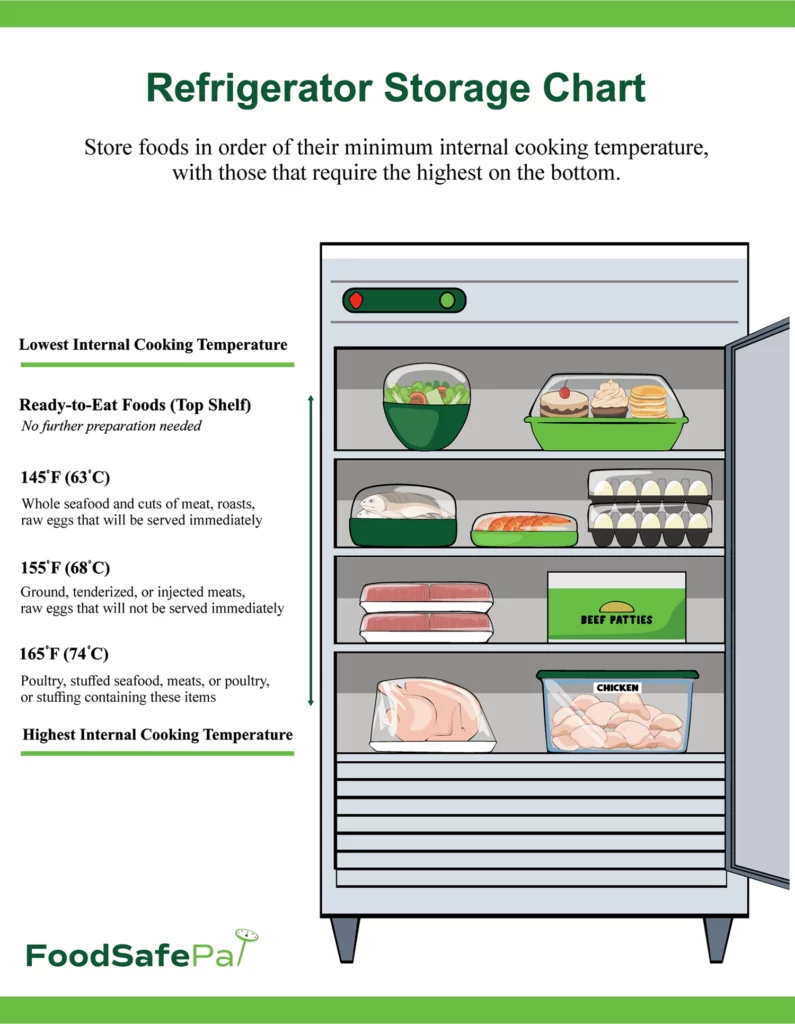 Download this refrigeration storage poster for FREE!
When it comes to the freezer, this order is less important since there is a lower risk of cross-contamination.
For example, you can store raw foods over RTE foods in the freezer if they are commercially packaged and unopened.
Never store food on the floor of the refrigerator or freezer, and utilize a first-in, first-out (FIFO) storage method to ensure food products are rotated according to their expiration or use-by dates.
Dry storage
Dry storage is where you store foods that don't require time-temperature controls for safety like dry pasta, grains, canned items, and other packaged foods.
It's also where you store single-service items like disposable utensils, containers, napkins, and plastic wrap.
Follow these food safety practices for dry storage (1):
Store food at least 6 inches from the floor to prevent contamination and allow easy cleaning.
In some settings, you may need to store food at least 16 inches from the ceiling to prevent sprinkler obstruction in the case of a fire.
Maintain the area between 50ºF and 70ºF (10ºC and 21ºC).
Never store sanitizers or other chemicals in dry storage.
Use wire shelving to allow proper air circulation.
Keep the floors, walls, and ceilings clean to prevent the buildup of contaminants and the attraction of pests.
If required, such as in nursing homes, it's good to regularly check that you have several days' worth of nonperishable food — including gallons of water — based on your disaster menu in case of an emergency like a power outage.
Summary
Ensure that your refrigerator and freezer units maintain a safe temperature, and store foods in a way that prevents cross-contamination. For dry food storage, keep the area clean, never use it to store chemicals, and store items at least 6 inches from the ground.
The bottom line
Food labeling and dating are important food safety practices.
Always label food not stored in its original container so it's not mistakenly used for a different food.
After opening or preparing food, mark the date or day on which the food needs to be served, sold, or tossed if you plan to hold it for longer than 24 hours.
Store food in the refrigerator based on its minimum internal cooking temperature, with those that require the highest on the bottom.
Never store chemicals in the dry food storage area, and keep in mind the other safe storage practices.
Get Our Food Safety Newsletter
Be among the first to know when we release new courses and articles.